Turku's Top Hotels - Handpicked by a Local
In my hometown of Turku, there are over a dozen hotels. There is one hostel and one camping site each.
Some accommodation options are better suited for families, some for business travelers, and others as bases for visits to specific places - are there any travelers to Moomin World by the way? In the end, choosing a hotel in Turku is quite easy. The most important places for tourists to visit are within walking distance of each other, and hotels are located in the same areas where tourists like to congregate.
On this page, I go through the districts of Turku and their most recommended hotels. After reading this page, you'll know where to stay in Turku.
Let's get started.
Turku City Centre (near the Market Square)
Market Square (in Finnish, Kauppatori) is the vibrant heart of Turku, a legendary place that brings life to the city. Its surroundings create the bustling core of Turku's city center. If you're planning a visit to Turku for an urban escape, the area around Market Square offers the perfect accommodation options to experience all the wonders this city has to offer.
Within walking distance of Market Square, you'll find an array of delightful restaurants and cafes, charming terraces, quaint shops, shopping centers, inspiring museums, lively theaters, and everything else you need for an unforgettable city vacation. The enchanting restaurant ships along the Aura River are just a short, leisurely stroll away, ready to be explored.
Transportation options from Market Square are excellent, making it easy for you to travel and experience Turku to the fullest. The square serves as a hub for Turku's public transportation, with almost all bus lines connecting to the Market Square. At one corner of the Market Square, there is also a taxi stand where taxis are always waiting, and they can be used to travel around Turku.
Hotel Options in Turku City Centre
In Turku's city center and near Market Square, you'll find an assortment of hotels to choose from. These include the centrally located Scandic Hamburger Börs and Sokos Hotel Wiklund, both located right at the corner of Market Square, the cozy Hotel Centro offering a delightful breakfast, the Scandic chain hotels Scandic Julia and Scandic Plaza well within walking distance for from Market Square, and the budget-friendly, self-service Omena hotel on Humalistonkatu street.
Scandic Hamburger Börs
Hotel Scandic Hamburger Börs is Turku's most popular hotel, located at the corner the Market Square, right in the heart of the city. Numerous shops, shopping centers, restaurants, and nightlife options surround the hotel. Buses to the airport and the harbor depart right around the corner of the hotel.
Buses from harbour (Tallink Silja and Viking Line terminals) pass close to the hotel, making it easy for those arriving by ferry from Stockholm or Mariehamn to reach the hotel by bus. The long-distance bus station is a 900-meter walk from the hotel. You can reach the hotel from Turku Airport by taxi or bus, with airport buses running right next to the hotel. Hamburger Börs is also an excellent choice for those planning a trip to Moomin World, as the bus stop for Naantali is located at the Market Square.
Reopened in early 2022 after a complete rebuild, Scandic Hamburger Börs is the most central hotel in Turku. Located on the edge of the Market Square, it is right in the heart of Turku's events and services. The entertainment and nightlife options are within easy reach. The hotel is also conveniently located for shopping enthusiasts. In front of the hotel lies Turku's Market Square. The covered Forum shopping block is Hamburger Börs' neighbor, and across the street is the large Sokos Wiklund department store. The atmospheric Turku Market Hall and more fascinating boutiques, large department stores, and shopping centers like Hansakortteli can be found along the Market Square and its surrounding streets.
Hamburger Börs is a renowned classic hotel that has been a part of the city since 1904. It was renovated in 2006-2007. The hotel is part of the Sokos Hotels chain and has a total of 406 rooms, most of which are non-smoking. The hotel offers conference and banquet facilities, making it suitable for business clients as well. Leisure facilities include a heated indoor swimming pool and sauna.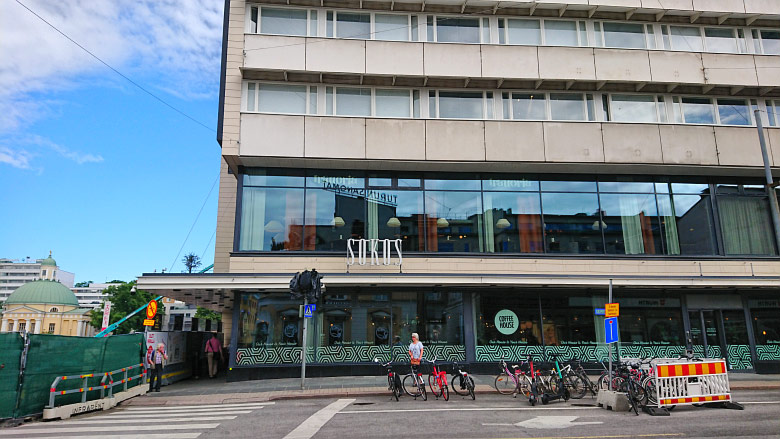 Original Sokos Hotel Wiklund
There's no hotel in Turku that offers a more central location than Sokos Hotel Wiklund, at least not until the Börs across the street is rebuilt and reopened. The hotel is named after the Wiklund department store, and it's situated at the corner of Market Square, where Kauppiaskatu and Eerikinkatu intersect.
One of the hotel's main attractions is its rooftop bar, Walo Rooftop Bar, which can be reached via a scenic elevator that runs along the hotel's exterior wall. The breathtaking views from the rooftop span across Turku's city center, all the way to the harbor. The three-story department store located under the same roof as the hotel allows guests to start shopping even before stepping outside. The department store's ground floor houses a grocery store, making it easy for guests to stock up on food and beverages for their hotel room fridge.
For those traveling by car, there are several parking garages nearby. Aimo Park Wiklund, the department store's own parking garage, provides indoor access to the hotel. It can be entered from Brahenkatu. Another option is the Louhi parking garage, which can be entered from Läntinen Pitkäkatu. It may seem like the entrance is on the other side of the city, but through an underground marvel, you'll emerge onto the surface at the corner of Market Square, where Kauppiaskatu and Maariankatu intersect. The third option is the brand-new Toriparkki, opened in early 2021, located beneath Market Square.
Wiklund's rooms are air-conditioned, ensuring a comfortable stay even during the hottest summer days. The hotel also offers uniquely designed, inspiring conference rooms that deviate from the conventional mainstream. Event organizers should definitely check them out. Dogs and other furry companions are welcome at Sokos Hotel Wiklund for a small additional fee, so you can bring your best friend along on your adventure.
Centro Hotel
Centro's staff is praised for their cheerful, humorous, and attentive service, creating an atmosphere that makes guests feel truly cared for. Extra warm blankets are readily available, and helpful tips on exploring Turku are given effortlessly. The hotel's exterior may evoke the best or worst of the 1980s, but the interiors tell a different story, with skillfully executed renovations breathing new life into the spaces.
The hotel's breakfast deserves a special mention. Guests are treated to an abundance of fresh, delicious, and healthy fare that satisfies even the most discerning palate. Special dietary needs, such as gluten-free options, are well catered for. The bread is toasted to perfection, and its taste is simply exquisite. Anyone who has lived in Turku for some time knows that Centro's breakfast is truly first-class. It's worth visiting Centro just for the breakfast alone, and many do just that.
For shopping enthusiasts, Centro's location leaves little to be desired. In the vicinity, you'll find an array of delightful shops for every taste. Market Square's charming stalls offer their culinary delights, while the city's major shopping centers—Hansa Quarter, Forum, Kultatalo, and Sokos Wiklund department store—are just around the corner. There's no shortage of nearby restaurants either, offering a wide range of choices from fine dining and lunch spots to fast food joints. For sheer convenience, the food court on the top floor of Kultatalo shopping center is worth a mention.
For those arriving by car, the hotel's inner courtyard offers a few parking spaces. If these spots are all taken, there are several other parking garages in the city center, as previously mentioned in connection with Hotel Wiklund. Rest assured, you'll find a convenient place to park and begin your unforgettable Turku adventure.
Scandic Julia
Hotel Scandic Julia is situated close enough to the bustling heart of Turku that you can still feel its vibrant pulse. Turku's city center is delightfully compact, with short distances making it easy to access the lively atmosphere from any of the hotels mentioned on this page – even by walking. For those who wish to stay as close as possible to Turku Cathedral or the campuses of the University of Turku and Åbo Akademi, Scandic Julia is the nearest hotel and a natural choice.
Julia is a typical Scandic hotel, and that's meant in the best way possible. The rooms are impeccably clean, with extra attention given to housekeeping. The restaurant offers delicious food, and guests can expect the kind of smooth, reliable experience that comes with staying at a chain hotel.
For those arriving by car, the hotel shares a building with a large, multi-story parking garage, providing direct indoor access to the reception area. In the lower level of the building, you'll find a Lidl grocery store, where you can conveniently shop for provisions without getting your feet wet. The lower level also houses a pub, a Megazone laser tag arena, and a few small shops. The surrounding blocks are home to numerous charming boutiques, such as one selling locally crafted products that are always worth a visit.
Scandic Julia is the ideal base from which to explore Turku's delights, providing comfort, convenience, and a taste of the city's inspiring, life-affirming spirit.
Scandic Plaza
Scandic Plaza is located along the pedestrian street leading from Market Square (Kauppatori in Finnish), where you'll find cafes, restaurants, various shops, and entrances to Stockmann department store and Hansa, the largest shopping center in the city center. Despite its central location, the hotel is remarkably peaceful. Since it is situated on a pedestrian street, there is no car traffic in front of the hotel, ensuring a tranquil night's sleep.
Just like Julia, Plaza is a straightforward and reliable choice, with the signature Scandic certainty that everything will run smoothly.
If you're interested in art or theater, Turku Art Museum and Åbo Svenska Teater are a short walk away (300 and 400 meters, respectively) from the hotel. To ensure your visit to Turku is filled with happiness, you can seek good fortune by touching the "Onnen hevonen" (Horse of Luck) art piece situated in front of the hotel. :)
Omenahotelli
Omena Hotel is located a bit further from the city center compared to the other hotels on this page, but it's worth mentioning as an affordable option for those who don't require the luxuries of traditional hotels. Even from here, a brisk 5-minute walk will take you to Kauppatori.
Self-service is the name of the game at Omena Hotel. Guests enter using a numeric code, and food options can be chosen from the numerous restaurants in Turku's city center. For example, families might enjoy the food court on the top floor of the Hansa shopping center, which is only about 500 meters away from Omena Hotel.
Omena Hotel is easily accessible by train for those arriving from Tampere or Helsinki. Trains stop at Turku's main railway station, from which it's a 400-meter walk along Humalistonkatu to the entrance of Omena Hotel. Buses to Turku stop at the bus station, from which it's approximately one kilometer to Omena Hotel, first along Läntinen Pitkäkatu and then along Humalistonkatu.